ABC Information and Resources (2002)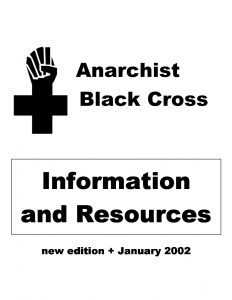 This guide is intended to give potential organizers a glimpse of the tendencies, ideas and experiences that have been a part of the Anarchist Black Cross over the last 15 years, and to empower individuals to create individual ABC groups of their own.
The Anarchist Black Cross movement, known throughout radical history as a prisoner support apparatus, served through the early twentieth century as a means of community defense. In addition to providing direct support to victims of political and social repression, ABC groups tied their support to an analysis that viewed prisons as a brutal manifestation of state power. Both, ABC groups said, needed to be abolished. The new ABC Network proposal (included herein) argues that, with the massive global buildup of police state, prisons and assaults against resisters, the role of organizers must also be to relate the street movement to the mission of the Anarchist Black Cross.
Author Christian Parenti argues, in his book Lockdown America, that the United States has restructured its economy and criminal justice system in order to save itself from social chaos in the form of political rebellion and the economic crisis in capitalism that occurred in the late 1960s and 1970s. The criminal justice system, he states, has been retooled to crush dissent, real and potential, and to cage those who have been pushed through the cracks of economic restructuring.
Today's American prison population has rocketed to two million captives, an over three hundred percent increase since 1980. The European Union and other nations are seeing an equally startling increase in imprisonment. In all cases, the vast majority in prison are people of color and the indigent. Immigrants and women are among the fastest growing prison populations. In states like California, spending on prisons are far outstripped what's spent on education. And those facts have created a growing movement in resistance to not just criminalization and incarceration, but to the society that has spawned both.
Parenti links expanding prison populations with initial contact with police, acting in part on zero tolerance/quality of life laws and the "war on drugs." Civility laws — which, in many cities cover everything from 'looking suspicious' to car stereo volumes — accelerate entrance into the criminal justice system. Violations of those laws build up the criminal records of the people most vulnerable under late capitalism, Parenti argues, making them targets for incarceration. They allow a hyper-policing of communities as they criminalize behavior often associated with living in poverty.
These laws are part of the alarming rate of gentrification created by the development of what Parenti calls "theme park" cities. These cities are the playgrounds of young, mostly white urban professionals with surplus incomes who seek ways to entertain themselves. Products of the suburbs, they seek communities nearer their entertainment and professional jobs. They want the thrill of city life without the realities of poverty their lifestyles have created. Thus, gentrification is inextricably linked with policing and prisons. This is where the ABC's analysis over the years has been critical. While the movement actively supports political prisoners (those incarcerated for expressly political actions on the outside), organizers also recognize the need to speak out on prisons, criminalization, support for all prisoners and what is going on in the world today (such as the growing wave of state action against youth, Third World/people of color, the homeless and poor; increased action against resisters and rebels; and the growing gap between haves and have nots, which only fuels prison expansion). We view prisons and the criminal justice system as part of a much larger problem and work to relate what people are facing with imprisonment to the reasons why they face those harsh realities — due to a system that willingly sacrifices humanity for its own existence and profit.
In many ways, this movement has always been about support, defense and freedom. The origins of the ABC date back to before the Russian Revolution. The Anarchist Red Cross was formed in Tsarist Russia to organize aid for political prisoners and their families and self-defense against political raids by the Cossack army. During the Russian Civil War, the group became the Black Cross to avoid confusion with the Red Cross who was organizing relief in the country. Furthermore, evidence suggests the organization may have existed even earlier.
After the Bolsheviks seized power, the Black Cross moved to Berlin where it continued to support prisoners of the Bolshevik regime as well as victims of Italian fascism and others. Despite the increasing demand for its services, the ABC folded in the 1940's because of a lock of money. In the late 1960's, the ABC resurfaced in England, where it began by aiding prisoners of the Spanish resistance to France's fascist regime.
In the 1970's, Lorenzo Kom'boa Ervin wrote a series of pamphlets from prison that included A Draft Proposal for on Anarchist Block Cross Network and Anarchism and the Black Revolution. In the 1980's, the ABC expanded with collectives working in many regions around the world. In 1989 an Emergency Response Network (ERN) was set up by Chicago ABC to respond to political raids, crackdowns, death sentences, hunger strikes, torture or killings of members of communities we work in solidarity with.
In the 1990's, the ABC expanded, thanks to groups like Toronto ABC (which disbanded in the fall of 1991, but influenced others through their work and publications to take up the struggle). A number of groups started in the U.S. and Europe. Denmark's Sorte Kors (Black Cross), founded in 1983, relaunched the publication of Mutual Aid, the internal bulletin of the international ABC network. In 1994, Nightcrawlers ABC hosted a conference of ABC groups. However, just as quickly, the ABC movement slowed, with only a handful of groups by 2001 left to organize in the midst of an incredible rise in incarceration, criminalization and revolt against repression. In addition to the political pieces, you'll also find a wealth of helpful information on how ABC work is done. There are also various "focus" pieces here that touch on issues all collectives face at one time or another. This guide is by no means complete. We want to use it as a starting point to help others get organized.
Please get in touch with your suggestions, comments and ideas. Updated editions of this booklet can be downloaded free here. Special thanks to Gumby for all her support (and co-authoring the sexism piece), and Eric W. of Austin ABC for his tireless work in support of all prisoners. More thanks to Rabid/NAELPSN and Noel M. for their wonderful enthusiasm, assistance and solidarity; and to Joel Olson and Claustrophobia for permission in printing their articles as well as to those who wrote materials from whom we could not obtain permission. Final thanks to: Ali Khalid Abdullah; Philadelphia ABC; Jerome White-Bey and all the MPLU comrades; Khalfani Khaldun; Alvaro Luna Hernandez; Chris Plummer; Robert King Wilkerson; and everyone I am forgetting to mention. Personal thanks to Heather for her humanity and encouragement. This effort is dedicated to all captives behind the walls, and to Lorenzo Komboa Ervin, to whom so many of us owe so much.
-ernesto