Freedom for Ella!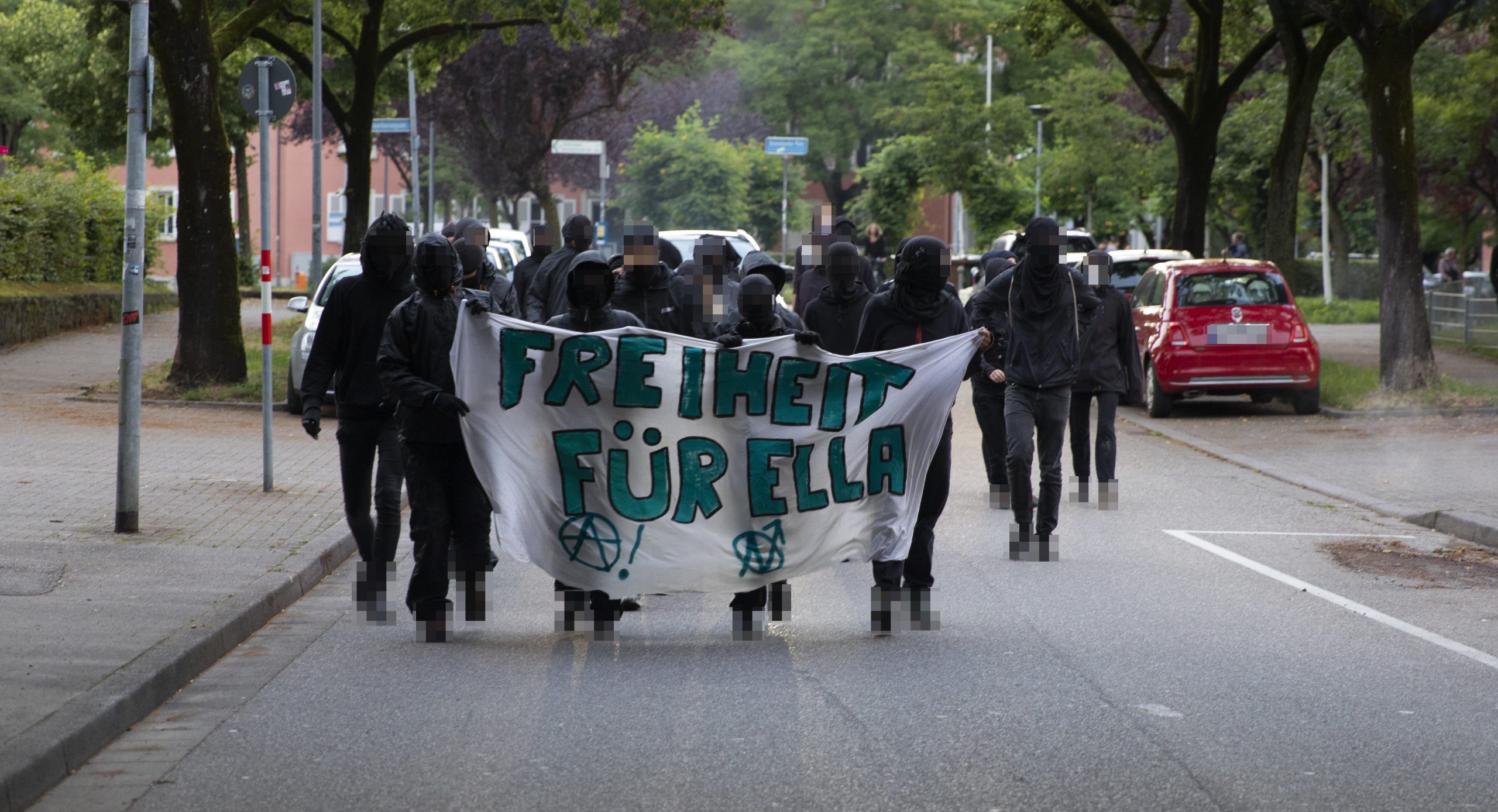 On 23.06.2021 climate activist Ella/UP1 was sentenced in Hessen to 2 years and 3 months imprisonment in the context of the eviction of the Dannenröder forest. Almost at the same time on 29.06.2021 a Hessian Nazi cop cashed an acquittal and a suspended sentence. While the Hessian cop collected Nazi devotional objects, embezzled weapons and explosives, engaged in racist, anti-Semitic and sexist agitation, Ella occupied trees in the #Dannibleibt for a future worth living.
The verdict is based on the statements of two Hessian SEK officers, whom Ella is said to have assaulted at a height of 15 meters during her arrest. We remember: the very SEK that was disbanded due to racist hate chat groups. In court, however, this does not seem to affect the credibility of the two witnesses. At a demonstration on 09.07.21 activists reenacted the capture of Ella by the SEK.
According to the activists, the sequence of events shown was based on video recordings from Danni, which refute numerous accusations against Ella. These were not admitted as evidence in court. The verdict can still be appealed. Ella has been in pre-trial detention for 8 months in the Preungesheim Prison in Frankfurt am Main. The unusually long pre-trial detention was justified by her refusal to reveal her identity. She says about this in the interview:
The state does not like that our identity as activists refers to our group. It wants to force us to identify ourselves as individuals.
From the performance, it is clear the violence and ignorance Ella faced when she was arrested. Ella, we admire your courage and determination in this scary situation! We send you strength and fighting spirit behind the gray walls!
They have affected Ella, we are all affected. All of us who dream of a future where we can walk through ancient deep forests, drink from clear rivers and breathe clean air; of a future where living beings and nature live in mutual consideration and respect; of a future that is not determined by destructive neoliberalism, but by free cooperation between free living beings! Let's keep fighting for this dream!
We have only this one beautiful planet and we have to protect it.
Solidarity with Ella! Solidarity with all climate justice activists!
To Support Ella and the anti-repression work Legal Team Dannenröder Wald you can donate here:
Konto: Spenden und Aktionen
IBAN: DE29 5139 0000 0092 8818 06
BIC: VB­MH­DE5FXXX
Bank: Volksbank Mittelhessen
Verwendungszweck: Antirepression A49
You can also write a letter to Ella:
Important: The person speaks english and spanish.

JVA Preungesheim
JVA 3 z.H. UWP Eins
Obere Kreuzäckerstraße 4
60435 Frankfurt am Main