Solidinner – vegan 3 course menu against repression on 23.07.2021 at AZ Conni, Dresden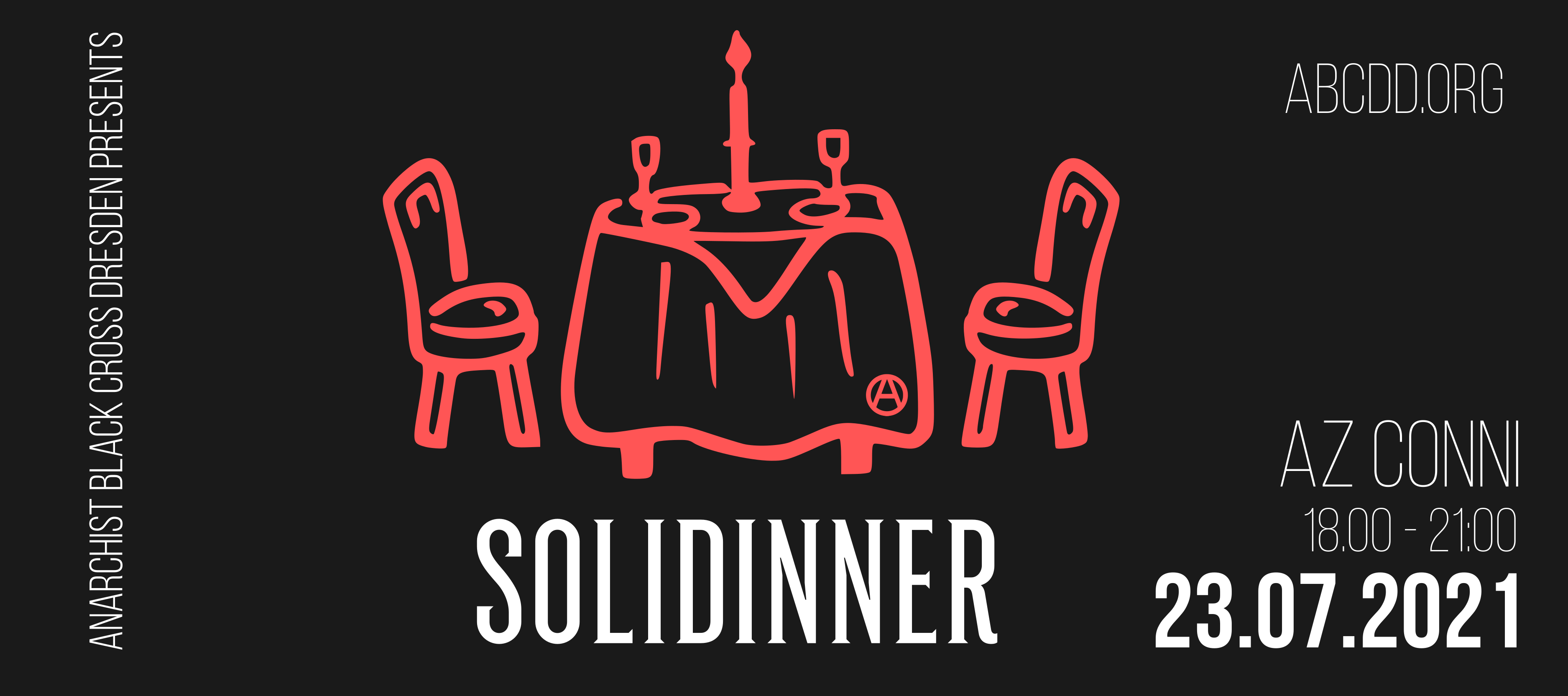 Being in solidarity has never been so easy and sooo delicious. 
We invite you to the Prisoner-Solidinner! 
There will be a vegan 3 course menu. 
Just come by, bring your friends and family and let us spoil you.

Repression affects all people who criticize the current system and therefore inevitably reach the limits of what this system is willing to tolerate. In order not to leave them alone, we want to create a nice evening with food and drink and give the proceeds to those affected. 

The solidinner will take place on 23.07.2021 at the AZ Conni ( Rudolf-Leonhard-Straße 39, Dresden).The meal will be served from 18:30. So feel free to come a little earlier to get a nice seat. Also for the sake of the nice atmosphere, we would be happy if you don't show up too late.The evening will be alcohol-free, so please refrain from bringing and consuming alcoholic beverages. Access to the AZ Conni is barrier-free and can be reached with a wheelchair.

We plan to support the following repression cases:
Moria 6
At the 12 of June 2021 four teenage asylum seekers were found guilty of 'arson with risk to human life' and sentenced to ten years imprisonment at Chios court after the fire in Lesvos' Moria camp. Despite documents proving that three of the accused were minors at the time of arrest, they were tried as adults. Two of the six defendants had already been sentenced in March at the juvenile court in Lesvos.The refugee politics of the European Union are inhumane. People are kept on the borders of Europe under horrible conditions. With this trial they put the responisbility of those politics on the once already suffer from flight and unjust life circumstances. 
Read more: https://freethemoria6.noblogs.org/

Tear Down Tönnies
Exploitation, racism, capitalist mass slaughter – Tönnies' billions in profits are based on the exploitation of animals, people and the environment. On 21.10.2019, 30 activists did not let this go unchallenged and occupied the slaughterhouse R. Thomsen in Kellinghusen for 14 hours. Where otherwise up to 6,000 pigs are murdered daily, the factory was blocked. In 9 civil lawsuits, Tönnies is now demanding € 16,761 each from the activists. The splitting of the trials is intended to make an example, to drive up the costs of litigation and to paralyze the climate justice/animal rights movement. But we say: it is the Tönnies system that is criminal, not the resistance to it. That's why we support the Tear Down Tönnies campaign.
Read more: https://teardowntoennies.noblogs.org
The 3 from the park bench
In October 2020, "the 3 from the park bench" were sentenced to prison terms of 19 and 22 months. Since a few weeks the sentence is legally binding. The three anarchists are accused of planning arson attacks in Hamburg. Two of the three defendants spent more than 18 months in pre-trial detention, but did not accept any deals and intimidation attempts by the prosecution.
More information and a statement of the 3 can be found here:
https://parkbanksolidarity.blackblogs.org/