Three LAUtonomia activists imprisoned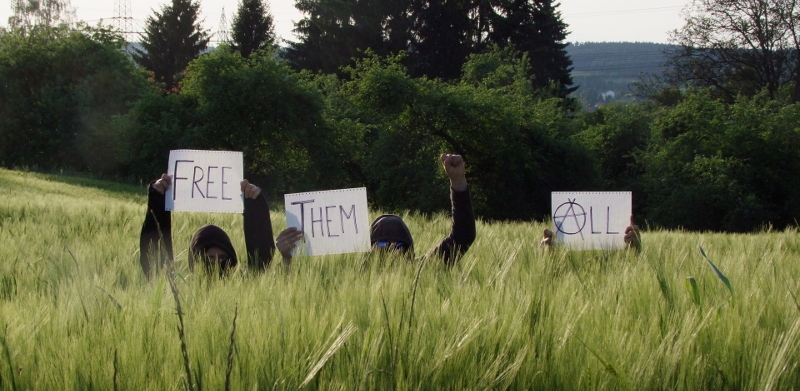 The Repression against the climate movement in Germany is increasing, as more and more people join radical ways of resistance against the destruction of nature and environment.
Since several years already exists the forest occupation Hambacher Forest, this year activists started a new project LAUtonomia and occupied a forest in Lausitz. LAUtonomia was brutally evicted on 18 may. In the context of the project several people were arrested, before and after the eviction. Right now three activists are imprisoned.
YU imprisoned in prison Luckau-Duben Yu was detained on early morning of 14 May during the blockade of a railroad. Together with activists from Robin-Wood the railroad between the open mine Jänischwalde and the power plant Schwarze Pumpe was blocked for 24 hours with a concrete pyramid. While all the people were set free at the very next day YU was kept in prison. She is charged with resistance against state authorities. The reason for the imprisonment is risk of her going into hiding, as she is not giving her identity. Usually "resistance" is not a "reason" for custody. According to the resent information she will stay in prison for one month, till the trial will take place.
Turtel imprisoned in prison Görlitz Saturday 14 may Turtel went with the bike from the occupied forest LAUtonomia shopping and never came back. These days were full of attacks of pro-coal-activists, neonazis and cops. People were afraid that something happened to Turtel. People searched the forest, lawyers called to the different police stations, without any results, a poster of the missed was prepared – but at the 17 may, three days later, the Görlitz prison administration confirmed that Turtel was in the prison after he was already on the list of wanted.
Two other activists were detained during the eviction (18 may) of the occupied forest LAUtonomia and brought to the magistrate on 19 May. They are accused of highly dangerous disturbance of public service. They allegedly blocked together with two other people the railroads with locks in the context of the mass action of Ende Gelände. They are now in custody in Görlitz prison. Here as well the reason for arrest is risk of escape, because both have austrian identities. Surprisingly Zottel – one of the arrested was set free at the 28 may. The reasons are not clear yet.
The imprisonment of those two is a new wave of repression against climate activists in Germany. For the first time a self chain action led to imprisonment, taking in account that identities were known to the cops. Although free, Zottel is still facing a trial and the other activist is still in prison as well as YU and Tur*tel.
The prisoners need your solidarity. Write them letters! Messages from outside are really important for prisoners – it is the only possibility to get in touch with the world. They are happy about pictures, drawings, small things of solidarity. Best is to put marks and envelope in the letter, so they have the possibility to answer you. And don't forget your address, if you want that them to answer you.
If you don't wanna give your personal address, send your letter via email to abcdd@riseup.net and we will send it further or send it via mail to: a.l.i.a.s.Dresden /ABC DD Böhmische Str. 12 01099 Dresden
Address of the prisoner:
YU (The number is really important, as the prison authorities often say they cant pass letters to unknown people): UnbekanntePerson "Yu" 174/16/3 JVA Luckau-Duben Lehmkietenweg 1 15926Luckau
Tur*tel after his transfer, approximatly 6 June: JVA Aichach Moritz Neuner Postfach 13 80 86544 Aichach
They put in cages only few, but hit all of us! Solidarity with those in prisons!