Presentation about the political crisis in Ukraine and anarchists in it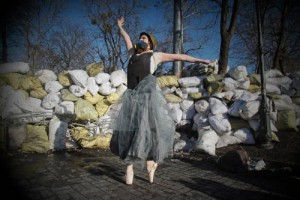 Sunday 30 November 17:00 pm Kosmotique Martin-Luther-Str. 13 01099 Dresden
This evening an anarchist from Ukraine will come to share with us his knowledge about the current political situation in the country. What happened in Winter of last year in Kiev? What is the Maidan and who were the people participating in it? What became the reason for the conflict in Eastern Ukraine? What is going on there right now and who is participating in the conflict? Who are the famous nazis from Ukraine and are they are so big as some media are reporting?
The presentation will be in English, translation into German will be provided for those who need it.
Background: A year ago social and political protests started in Ukraine. Hundreds of thousands of people went on the streets. As the result of the conflict that lasted for several months the president fled the country and the opposition took over the power. Around 100 demonstrators were killed only in Kiev. The Maidan Nezalezhnosti (Independence Square) became a symbol of the struggle against the government. Later on in the Eastern part of the country pro-Russian people started organizing protests against the Maidan movement. As a result of these protests the Donetsk People's Republic (DNR) and Luhansk People's Republic (LNR) were formed and they declared independence from the Kiev authorities. Separatists backed by the Russian government are now at war with the Ukrainian government.