Demo in memory of Oury Jalloh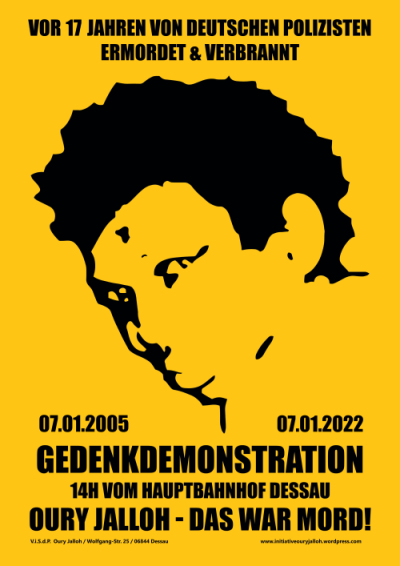 Meeting point to travel together on January 7, 2022
Oury Jalloh was burned to death, bound hand and foot, in a Dessau police custody cell on January 7, 2005. It was only in the fall of last year that the Higher Regional Court in Naumburg decided to finally close the case of Oury Jalloh, despite the fact that they had another forensic report that showed beyond doubt that Oury Jalloh had already suffered severe bone fractures and life-threatening injuries in his cell before the fire. This joins a long list of monstrosities that reveal the extent of structural racism in Germany. Police, judiciary and politics refuse to clarify the situation and declare since the beginning of the investigation that Oury Jalloh had set himself on fire!
Oury could not have set himself on fire. This clarification work is boycotted by state authorities up to the Federal Prosecutor's Office and covered with massive repression on the part of the Saxony-Anhalt police and Jusitce. Thanks to the ongoing work of the initiative, the murder of Oury Jalloh became an internationally known case of institutional, racist violence. However, it must be clear to us that there were other murders besides Oury Jalloh and that this is not an isolated case.
It is extremely important that we do not forget these cases and do not allow the state to cover up these murders.
Come to the Demo
January 7th at 2 pm
Dessau Central station
Meeting point to go by car/train from Dresden
10.45 am at Bahnhof Dresden Neustadt
Train leaves 11.13 am on Platform 5
More Infos:
https://www.dw.com/en/germany-asylum-seeker-dessau-oury-jalloh/a-54727651
https://initiativeouryjalloh.wordpress.com/